Attn fitness boot camp instructors and hardcore kettlebell workout fans –
Put My Kettlebell Boot Camp System to Work For You …
… With More Than
72

 of My "Brutally Fun" Kettlebell Boot Camp Workouts That Will Get Your Campers Telling All Their Friends and Coming Back For More!!

Dear friend –

Forest Vance here – veteran personal trainer and certified Russian kettlebell instructor, former pro athlete, gym owner, and published author based out of Sacramento, CA.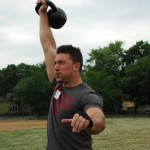 I have a "little black book" of my favorite kettlebell boot camp workouts – which I'm always adding to, tweaking, etc. – and 90% of the time, that's where I pull my daily boot camp workouts from.  This way, I don't have to spend hours a day racking my brain for fresh and fun training ideas.
Of course, I have a plan and progression for my programming over time – but this method makes my life SO much easier.
Now, if you are a boot camp instructor – or, if you are just a boot camp workout enthusiast – you should be doing the same.  It's the only way to go!
Interestingly though, based on talks with dozens of friends and associates in the business – most people KNOW they should be keeping their own version of a "little black book" – but for whatever reason, DON'T.
So I've come up with a solution to this problem.  I've put together dozens of my favorite kettlebell boot camp resources, for you to "steal" and use with your campers (and yourself!)
Now introducing …
The Kettlebell Boot Camp Workouts Mega-Pack (NEW and updated for 2015!)
Inside this special discounted bundle, you'll find:
The 10×10 Kettlebell Solution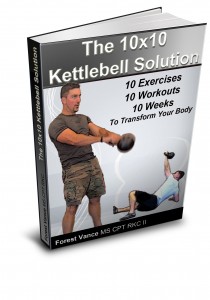 My original 'flagship' kettlebell program.  Discover inside:
How to perfectly perform the 'core 10′ kettlebell and body weight exercises.  You'll get maximum results in minimum time and stay injury free.
Kettlebell training tips that clients say make all the difference in their training progress.  It'll be like having me as your personal trainer over the next 10 weeks.  These are training tips that you truly can't find anywhere else.
Exactly what to do every day for the next 10 weeks to reach your ultimate fitness goals.  No more guess work … just a done-for-you plan.
How to fix many of the common kettlebell and body weight technique problems – 'pick my brain' and get the benefit of my years of training experience on this one (I see the same issues over and over again … and I've included fixes to lots of common training problems in this manual)
And much more!
21 Fat Burning Kettlebell Cardio Workouts
Not for the faint of heart – but if rapid fat loss and extreme cardio conditioning are what you're after, you'll love this one …
You'll find the complete 21 workout program spelled out for you.  In 42 days, you'll progressively and systematically build your strength and cardio endurance with kettlebell and body weight – based movements.  These workouts are short – under 30 minutes, some under 20 – and INTENSE.
Ultimate Kettlebell Challenge Workouts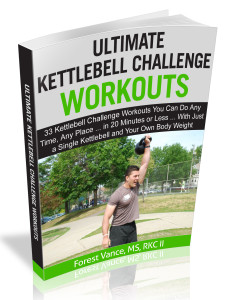 In this high-quality, fluff-free, no-B.S. program, you'll be taken by the hand as I walk you through 33 NEW kettlebell challenge workouts – a full 8+ week training plan where you'll never repeat the same workout twice! – that you can do any time, any place, with just a single kettlebell and your own body weight.  Workouts you'll find inside:
Doing it Way Big
Super Circuit
The Punisher
Pull Up, TGU, Swing, Cardio Giant Circuit
ExtraHard
Welcome to the Jungle
FVT Challenge Workout
BW and KB Smoke Session
Up the Ladder
Strength Tri-Set
Simple but TOUGH
Kettlebell and Body Weight Beat Down
Fun Day
Strong and Simple
Swing and Burpee Kettlebell Challenge
Total Body Strength and Conditioning
Mega Strength Day
Hybrid Cardio
Single KB Complex
Cardio Strength Training
Get It
Death by Snatch and Burpee
KB / BW Blowout
Killer Kettlebell Complex
Killer Kettlebell Complex 2
The Puker
Down 'n' Dirty KB Boot Camp Workout
Full Body Melt Down
Total Body Insanity
Time to Get Tough
Flipped
Shoulder Bully
Fearsome Foursome
The FVT Kettlebell Basics Workshop Videos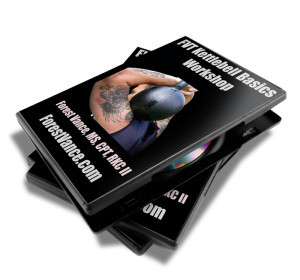 In this video series, I take you by the hand and walk you through, step-by-step, EXACTLY how to do every basic kettlebell exercise.
The biggest obstacle folks have in getting started with kettlebell training is making sure they are performing all the exercises safely and effectively – and these workshop videos solve that problem.
We had a professional film crew come in and film the last Kettlebell Basics workshop we did at my studio.  It's literally the closest thing to attending one in-person, without actually being there

 These are typically $97-$197 to attend – and we only do them in Sacramento, twice a year.
In these workshop videos, you will get detailed instruction, coaching, cues, technique corrections, drills, and more on ALL the basic kettlebell exercises, including:
The Deadlift and variations
The Swing
The Turkish get up and variations
The Clean
The Press and variations
The squat
The Snatch and progressions to work up to it
And much more!!
Plus, these videos are formatted to watch online, can be downloaded to your computer – even viewed directly on your mobile device!
Mud Run Domination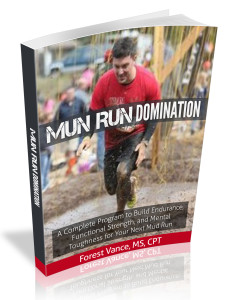 Kettlebell and body weight – based training program that works AWESOME in a boot camp setting. In this program, you'll focus on:
Total body strengthening – get strong and tough enough to beat any obstacle
Building functional strength – you'll build muscle that not only looks good, but works great too
Increasing flexibility and mobility – qualities you'll need to stay injury free on race day
Improving cardio endurance – a KEY component of performing at a high level at your event
Improving mental toughness – maybe the most important quality of all at your mud run
Getting you stronger, faster, and more athletic!
The 30 Day Performance Nutrition Diet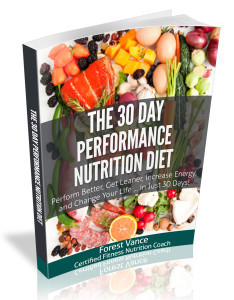 Find inside:
A totally done-for-you diet that'll have you leaner, stronger, and BETTER in just 30 days.  I take out ALL the diet confusion and tell you exactly what to do to get results, fast.
A complete 7 day meal plan – the diet plan lays out in detail exactly what you need to do … but I've taken it a step further to make it even MORE done-for-you … I've created a full 7 days worth of meals for you!  Just follow the plan and get results.
A complete guide to overcoming the #1 clean eating OBSTACLE – can you guess what it is?
Three bonus bodyweight, dumbbell, barbell, and kettlebell workouts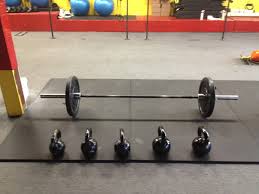 More fun boot camp – style body weight, dumbbell, barbell and kettlebell workouts!
Football Bootcamp Workout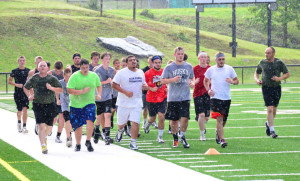 A bootcamp-style workout for 'regular folks', inspired by a sports-specific football strength and conditioning program.
 ###
So, check it out … if you were to purchase each of these programs separately (and you can if you want to, in my store at ForestVance.com), you would pay well over $150.
But for this week ONLY, I am making them available as a special package deal for over 66% off – only $47!

As usual, this product is backed by my 100%, no-questions asked, 60 day money-back guarantee.
Take a full 60 days to try the program. If for any reason at all you're unsatisfied, contact me and I'll refund the full purchase price of your order!
Thanks, and take care –
Forest Vance
Master of Science, Human Movement
Level 2 Certified Russian Kettlebell Instructor
NOTE: The Kettlebell Boot Camp Workouts Mega-Pack is a collection of downloadable e-books and video.  After you order, you will get INSTANT ACCESS to download the e-books onto your computer. NO physical products will be shipped.
ClickBank is the retailer of this product. CLICKBANK® is a registered trademark of Click Sales, Inc., a Delaware corporation located at 917 S. Lusk Street, Suite 200, Boise Idaho, 83706, USA and used by permission. ClickBank's role as retailer does not constitute an endorsement, approval or review of this product or any claim, statement or opinion used in promotion of this product.